Kurt Rosenwinkel is regarded as one of the most skilled and influential modern jazz guitarist. He has brought his unique improvisational abilities to use with many of the top jazz musicians today.
Kurt is a user of many effects and is always experimenting with new options to create the blissful tones he is known for. He is personally one of my favorite jazz guitarist because of his amazing recordings and his tone. Read more to find out Kurt Rosenwinkel's Gear.
This article contains Amazon Affiliate links. Visit disclosure for details.
---
Guitars:
One of his most used guitars is a D'Angelico NYSS-3 which isn't manufactured anymore, however the D'Angelico EX-SS  is a similar styled guitar.
Excerpt from Guitar Player Interview talking about his guitar on his Star of Jupiter album.
"I only use the neck pickup on my D'Angelico NYSS-3, and the lead from that is split into two signal paths, each with its own volume and tone control and its own output jack. One output goes to the HOG, the other goes to my main signal path, and then the two are blended before they reach the amp. The pickup selector has been rewired to select either or both feeds from the pickup. On "Gamma Band" I had the selector in the middle, but I can also do things like flip to the HOG and play a chord swell, freeze that using the HOG's freeze function, then flip to the guitar sound and play a distorted solo line over it—that sort of thing."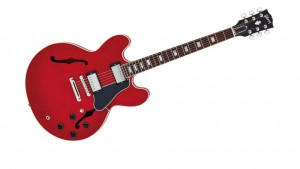 Next is a cherry Gibson ES-335 which is a very popular choice for jazz guitarist.
He uses  Sadowsky Semi-Hollow guitars.
He also uses custom made guitars built by Italian luthier, Domenico Moffa as seen in the photos above. Kurt has about seven guitars built by this luthier.
Not the best photo of Kurt, but in it, he uses a Custom "Westville" guitar made by Masaki Nishimura from Tokyo. He now uses a Westville guitar and a Domenico Moffa guitar for his main guitars which he talks about in this January 2016 interview.

He was using a Godin ACS-SA in a Masterclass in 2006.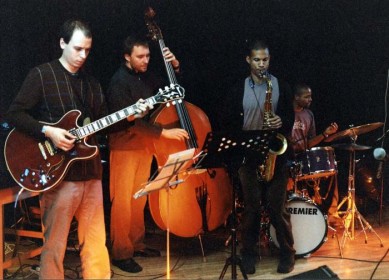 He appears to be using an Ibanez Artcore Expressionist or a similar model in this photo.
Last he has said he uses a Schottmueller Guitar.
---
Amps: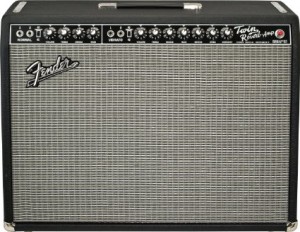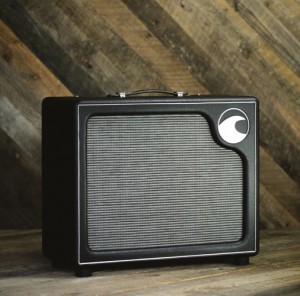 Kurt mainly uses a Harry Colby modified Fender Twin Reverb.
He used a Pearl City Pearl Amp for his Star of Jupiter album which he talks about here.
---
Effect Pedals:
Kurt Rosenwinkel has used many effect pedals for his vast varieties of tone.
In the photos above, you can see his Gibson ES-339, a Godin Nylon, a Fender Twin Reverb, and a ton of pedals.
Pedals he uses or has used: Guitarplayer Interview